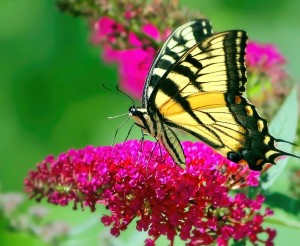 A swallowtail butterfly landed on a purple petunia.  Then it flew to another.  It ignored the pink and red petunias, red geraniums and other multi-colored flowers on my balcony.
What a fascinating and dangerous journey it had to become a butterfly.  I doubt it was aware of its process.  It just did what it needed to do to live. It grew from the tiny egg to the crawling caterpillar. 
It encapsulated itself in a cocoon, struggled out of it, and stretched its wings to build up strength to fly away.
I'm sure it has no idea of the joy its beauty brings to all who see it.  We can learn from the butterfly.  We never know what may result from what seems like small act or just living our daily lives the best we know how.  Usually we won't know how our life struggles and experience may guide us to help others.  A return greeting to a drug store clerk may make her day.  Calling persons who may be having a hard time lets them know they are important.  Letting someone know you are thinking about them assures them they aren't alone.  These and many other seemingly small acts can bring beauty into others lives like seeing a beautiful butterfly on a purple petunia.
As you see the butterflies, I invite you to reflect on how you, too, bring beauty into others' lives.